A Bit About the Artist
DON SAWYER — Watercolorist
On a dark and dank March evening in 1963, I ran away from boarding school near Bernardston, Massachusetts and stealthily hitched north on old Route 5 to Brattleboro, Vermont. Darned, it was cold; damned, I sure was hungry! The seven lonely greenbacks in my wallet reflected my poor planning for this road adventure. How would I escape the biting cold? Who would feed me? The answers to these and other pressing adolescent questions were found on Main Street . . . at the diner.
Now relocated, the old downtown Royal Diner warmed my body, my tummy, my soul. Only two of my precious dollars had to be sacrificed for a gargantuan cheeseburger, a copious plate of fries, a real-deal mocha shake and a pudgy piece of pie. "I'm a diner guy from now on!" said I, as I exited contentedly and sauntered further down Main. Hanging a right on Elliot, I was awed by yet another funky Worcester dining car, the Night Owl, catering to a nighthawk bar crowd. Little could I have foreseen that forty-two years later I would be asked to write and illustrate a review of this diner, now called T.J. Buckley's, a bonafide five-star restaurant. Even more ironic, I later lived only feet away from that fateful spot on Route 5 where my father joined a three-state A.P.B. and scooped me up. Dad was the best. He even took me to the local diner before re-depositing me at school!
Somehow I completed my education and enjoyed a twenty-year teaching career, as well as a few appropriate years in juvenile rehabilitation. While still teaching in central Maine in 1988, I took a ten-dollar remedial adult education art course to help refine a lengthy watercolor avocation. Because I lived in a poor community, I was rebated three dollars, making me, I'm sure, the only Downeast professional artist with a seven-dollar background. Heck, I could have paid for my art training as a sixteen-year-old runaway!
When requested to paint a local subject of interest, I predictably chose Gardiner, Maine's A-1 Diner, a Worcester Streamliner which sits precariously on a rusty bridge but dishes out succulent cuisine. The original painting sold pronto and my print version soon gained popularity. I then added some other classic Maine eateries: Moody's, Fat Boy Drive-in, Miss Brunswick and Miss Portland; and I developed a personal watercolor approach I call "stylized road-art." Although I continued to paint seascapes, mountain scenes, town commons, still life, and private home-business-car commissions, I had accidentally created a popular aesthetic genre for myself and had become "Diner Don."
In 1992. I abandoned my teaching career and eventually returned to that spot on Route 5 where my dad found me decades before. Since then I've painted a bevy of regional subjects: Miss Florence, Miss Bellows Falls, the Bluebonnet, White Hut, Hot Dog Annie's, the Modern, Olympia, O'Rourke's, and over 160 others. I've also been featured on Boston's WBZ television, CBS' The Morning Show, The Phantom Gourmet, Portland's WMME, Springfield's WWLP, and Burlington's WCAX. Critical reviews and images have appeared in Yankee Magazine, the Worcester Telegram, the Worcester Quarterly, the Rutland Herald, Southern Vermont Adventures, and in two nationally distributed books.
My artwork can be found in numerous fine New England galleries and gift shops, purchased at many of the subject diners, or ordered directly from me (use the order form from my website). Hectic schedule renders email correspondence impossible, yet I truly enjoy your phone calls for diner chat, print orders and subject requests.
Most rewarding on my "road art" journey have been the folks I've met along the way— great people like Joe Sorrentino of Joe's Diner fame, Tom "Terrific" Manning at Miss Portland, "Dangerous Don" Camire at Rapid Ray's, the comical crew at Miss Brunswick, "Rowdy Ray" Boutin at Zeb's, and a bevy doggie/burger characters at Flo's, Blackie's, Coney Island, Frankie's Haven Brothers, et al.
Read on, diner buff, support the arts and dine deliriously at your local diner. Give me a call, your voice in great part directs my brush.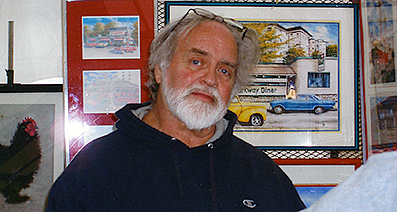 Site design © Coffee Cup Media LLC.
All art prints and text © Don Sawyer and may not be reproduced in any form without consent.