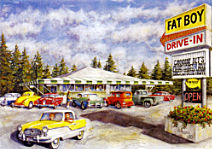 Fat Boy Drive-In, Brunswick, ME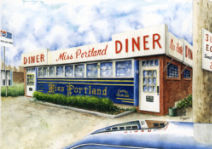 Miss Portland Diner, Portland, ME

As seen on the Phantom Gourmet
"Diner Don" Sawyer
is a New England watercolorist who is well known for his stylized renditions of regional diners, roadside attractions, and pastoral scenes. For years he has complemented his high school teaching career with images so popular that he has reproduced them in appealing, affordable, matte-shrink-wrapped prints. Diner Don's watercolors may be viewed at selective arts and craft shows, purchased at numerous fine gift shops, or ordered directly from Don herein.
A life fully lived, the Diner Guy has returned to his native Maine. Because of time/travel demands, Don simply can't keep up with emails; however, he thrives on your phone calls for diner banter and special orders.
41 Deervale Rd
Durham, ME 04222
(207) 353-5162
www.donsawyerart.com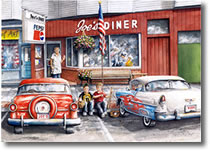 Joe's Diner, Lee, Mass.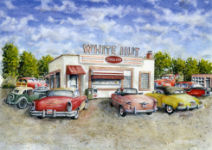 White Hut, West Springfield, Mass.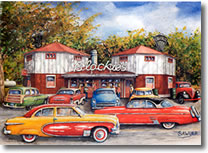 Blackie's Hot Dogs, Cheshire, CT