Non-Diner Subjects
Don Sawyer - Watercolorist
In addition to my "roadside art," I am proud to offer a variety of New England scenes and other colorful subjects in print. From Portland's historical Harbor Fish Market to its Lightship Nantucket, From Vermont's majestic Manchester Village to its covered Creamery Bridge, from utilitarian old lamps to tired old trucks, from tempting fruit to nostalgic trains and stations, I've painted it all!
Here are samples of this work with matted dimensions under each. I'll be adding a complete listing of these pieces in the near future, but feel free to call for current descriptions and costs.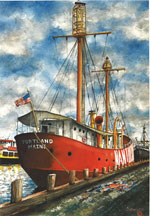 Private Commissions
One of my favorite artistic activities is to paint a personally commissioned work for you— your home, cottage, business, car(s), boat or cherished subject. Originals are more expensive than prints, of course, but come nicely framed, double or triple-matted, under glass, backed, et al. They are spawned as much from your imagination as mine, and I work hard to keep originals affordable.
The images here were conceived by customers, painted in watercolor by me, then made into prints. The originals of each now hang boldly on my patrons' walls.

207-353-5162
41 Deervale Rd
Durham, Me 04222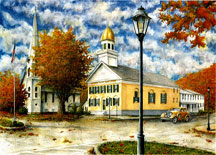 Manchester Village
12" x 16"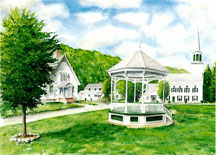 Townshend Village
12" x 16"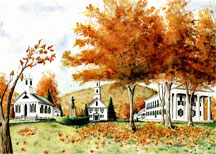 Newfane Common
12" x 16"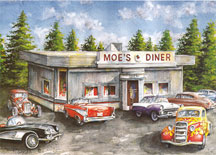 Moe's: The Diner of Your Dreams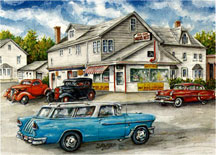 Nick's Nest, Holyoke, Mass.